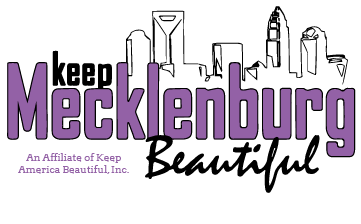 Keep Mecklenburg Beautiful's Focus Areas
Litter is more than just a blight on our landscape. Litter is costly to clean up, impacts our quality of life and economic development, and eventually ends up in our waterways and oceans. We are committed to providing people with the resources to help prevent litter with the ultimate goal of helping to end littering in Mecklenburg County. If you would like to volunteer to assist in quarterly clean-ups, please contact us at: [email protected].
By educating and engaging individuals to recycle more of the right things the right way—at home, at work and on-the-go—we can help make recycling more economically viable, while continuing to reap greater environmental and community benefits. Free virtual webinars are available; contact us at: [email protected].
We envision a county that is a clean, green and beautiful place to live. Our actions lead to tree plantings, gardening and landscaping, public space clean-ups, and more – all of which result in a positive, lasting impact in neighborhoods across the county. Clean up materials are available. Please contact us at: [email protected] for more information.
What Can and Can't be Recycled
Aluminum cans
Cardboard boxes
Cartons and juice boxes
Cereal and food boxes
Empty aerosol cans
Glass bottles and jars
Magazines
Paper
Plastic bottles and jugs
Tin/steel cans
Batteries
Clamshells or Styrofoam
Ceramics
Glassware
Light bulbs
Paper plates or napkins
Plastic bags, plastic wrap or plastic film
Plastic food trays
Pots and pans
Shredded paper
Wire hangers